CCS Awareness that is!
I think most of you know that I like to make comics, but I'm not sure all of you know that I go to an AMAZING school called The Center for Cartoon Studies. It's in White River Junction, VT, and taught by the best teachers out there today. I'm barely done with my first year, but I've already changed and grown an incredible amount since coming to this school. Consider what I was doing before to what I am doing now:
Before:                                               After:
Look how happy I look now that I have eyes! And I've got emanata of happiness radiating from my head! Guys, this is some expressive cartooning at work here. So anyway, I encourage you all to click on the link if you want to learn more about the school and more importantly, share with your friends if you know any of them are interested in a school for cartooning! Also, you can get an MFA if you try really hard. For those of you who are unclear with the term MFA, it stands for "motherfucking artist."
Oooh, this is the most vulgar post I've done yet. Actually it gets better. With watercolor!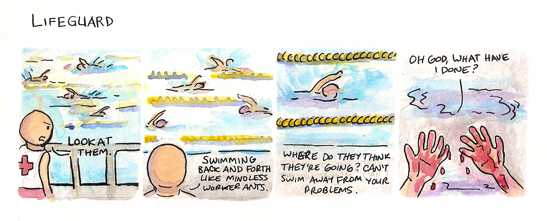 And finally, learn to draw with Tom Gammill at CCS: http://www.youtube.com/watch?v=6qW6S4SUKoU